"Through the use of color, I try to convey a message of life appreciation."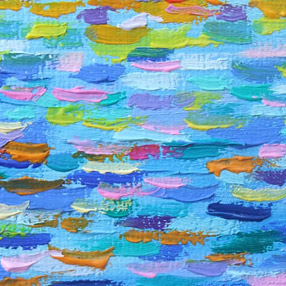 Color
First and foremost, David Parker is a Colorist.  From the beginning of his Fine Art Career, Parker has always insisted that his artistic objective is to positively influence human emotions through the use of color.
"My subjects, titles, and compositions are merely supporting elements.  My paintings are primarily about color's affect on the observer.  My palette is designed to be both positive and innocent. There are a number of in-depth studies on the psychology of color.  These analyses, whether done for environmental, advertising, packaging, or physiological reasons, all agree that color can influence human feelings.  Depending on the hue and location in the spectrum, specific colors can evoke thoughts of aggression, tranquility, security, peril, joy, or revulsion, along with a board range of other responses.  My use of bold, bright primary colors is intended to instill joy, harmony, and contentment."
"Through the use of color, I try to convey a message of life appreciation."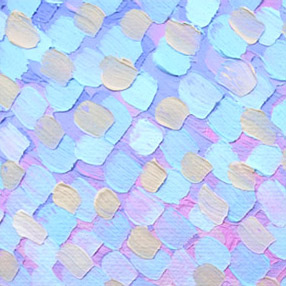 Impressionism
"The most revered paintings in history are impressionistic.  The painters whom I most admire are the Impressionists, Monet, Van Gogh, Serrate, Pissarro, Degas, Rousseau, and Klimt.  Their works move my soul, touch my heart, and make me wonder at their passion for life."
"I believe art should be a thing of beauty.  I've chosen to be an impressionist as a rebellion against abstraction.  It is a modern thought, from a somewhat retro perspective.  Installations, social and political statements, random splashes of pigment, dark, satirical, or even clever, thought provoking contemporary works often fail to pass a simple litmus test: Is it truly lovely?"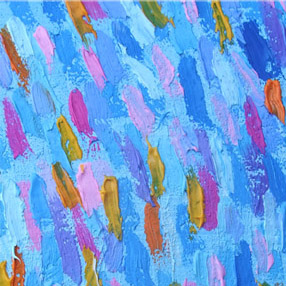 Pointillism
"By stacking color on top of color, I try to create paintings that change as the environment's light changes.  I want the works to be a living, adapting, dynamic visual.  I also strongly believe that the energy put into the creation process is then reflected.  Pointillism, as a technic, is labor intensive.  The style is intended to create an electrical vibrancy that makes the observer's eyes dance."
Compositions
"Creating a visually pleasing composition is a science.  The canvas aspect ratio, element placement, depth, and how we actually read images all come into play.  When composing, I begin with classical composition formulas, and then extrapolate.  I prefer an upper left to lower right diagonal, and then add spots of maximum illumination to further move the eye from point to point on the image.  It is my objective to create visuals that cannot be absorbed with a single glance.  I want the observer's eye to work in order to completely understand what is going on.  Initially, the viewer's mind registers the main subject, however, if I am successful, they then are attracted to secondary elements.  From there, I hope the audience becomes involved in the execution.  There, color, texture, and energy, all play roles.   It is my hope that all the various elements combine to achieve my artistic objective of evoking a positive emotional response.  Simply, I want the observer to have a pleasant and interesting visual experience, and be left with a feeling of optimism. "
Subjects
"Certainly, I am best known for my Western paintings, and there are a number of reasons for that subject matter choice.  First, when I began painting I wanted to make a positive statement, idealistic, yet innocent.  I also wanted a subject that I could use metaphorically to convey my own life experiences.  Having had fond childhood memories of playing cowboys and Indians, the western subjects and my artistic objective meshed well.  Naturally, there were other influences.  I understood there was regional acceptance of the subject, and living in Colorado helped. I also became interested in what Charles Russell, Frederic Remington, as well as what Thomas Hart Benton had done.  After I had begun selling my work, I saw that artist like T.C. Canyon, John Neito, and to a certain extent, Frank Howell had been able to cross the line between Contemporary Western work and Modern Art.
"Once I began to show my work to a boarder audience in places like New York, Chicago, and California, I started experimenting with new subjects.  Being I believed the palette/color mix was more important than the subject, I didn't feel limited to one genre."
"Western themes are still my primary subjects, however the French Landscape work I am doing has proven successful.  Admittedly, some of my forays into more esoteric subjects, machines, cityscapes, farming, and even surrealism, have been less popular, but they still interest me.  Personally, I find those efforts some of my best work and will never put limits on where I can go."
Collectors
Parker's bold palette and distinctive style are recognizable from a mile away, making his work some of the most unique and highly collectable impressionism of a generation.
"Over the last 30 years, I've done about 3000 paintings.  I have never had more than 10 works in the studio at any given time.  Currently, there are maybe 20 original oils available.  Nevertheless, I am still pleasantly surprised whenever someone makes the effort to collect my work.  I've sold paintings to movie stars, famous musicians, Titans of Industry, professional athlets, and lots and lots of regular good folks.  Everyone who has bought my work, seem to understand what I am trying to say with the art, and actually relate to the message.  The vast majority of my collectors are colorful characters in there own right, and they all  tend to have a passionate appreciation of life themselves.  For that reason, I tend to relate to the majority of the people collecting my work, and often have close personally relationships with my collectors.  I consider everyone that buys one of my pieces a patron, and sincerely appreciate there helping my career move towards the art history books.  At this point, I have sold painting across America, Europe and now Asia."
"Being I only produce maybe 100 original paintings a year, collectors understand the rarity of what I do, and the value of my work has consistently increased.  Even with the print productions, there are only a very limited number of prints in each edition.  The prints are all hand embellished, each differently, signed and numbered."
Having already been featured at the Booth Museum of American Art, it is anticipated that Parker's work will continue to appreciate in value and that his paintings will achieve historical significance.